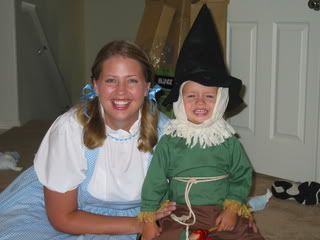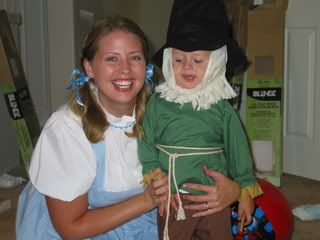 Yea! So guess what I got today????? My jogging stroller/bike trailer! I am so excited. I found one posted on Craig's List last night and I called straight away this morning and said I'd be there to see it ASAP. It is the brand that I wanted and I got it for a steal, so I'm so excited! It is still a little smokey outside, so it will take its maiden voyage on Monday. Wahoo!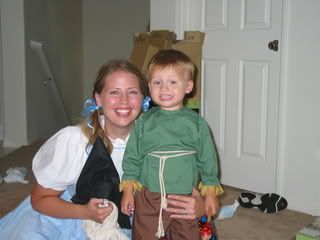 Today Will finished hanging the blinds, so we aren't a peep show anymore. We also went to the Westminster Ward Halloween Party and it was so much fun. The Boy was all over the place and he enjoyed playing the games. He still doesn't have the concept of waiting for his turn, so he would just run up and try to be first. It was pretty funny. He won the "Best Homemade Costume" award and I was very proud;) He even said, "Trick or Treat" when he went trunk or treating. Cute!

Look what his little girlfriend came as? Aren't they cute!!!???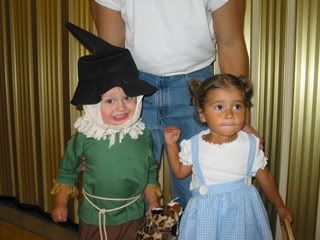 Tomorrow we have Stake Conference and the new Elder Cook is coming because they are changing up our Stake Presidency. Cool, huh? So we've got that tomorrow. Next week we have a Halloween party to go to and I can't decide what costume to wear. Maybe you all can help me. It's either Dorothy or the purple crayon. I made the Dorothy costume to go with The Boy's costume, but this is just an adult party, so he's not going. So should I be the crayon? Vote and let me know.
Eating the cupcake he won during the cupcake walk.